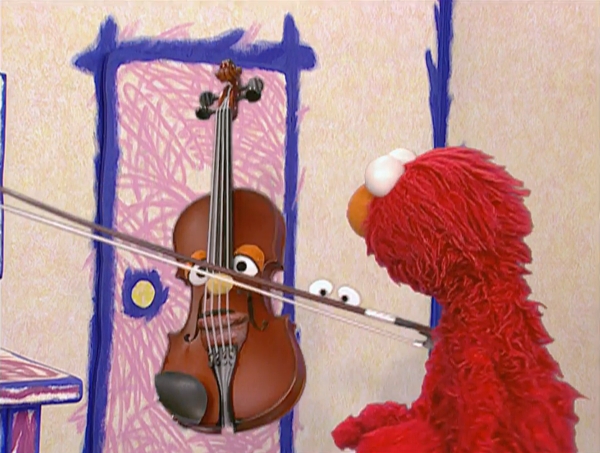 When I first had my daughter, many of my musician friends asked if I played my viola or my violin for her. Sadly, the answer was no. There may be other new mothers out there who successfully played for their infants while the baby watched/slept, but I was to busy caring for her to even think about getting out an instrument. Not to mention too exhausted! As my daughter got older, I tried again. I got out my violin after she watched an episode of Sesame Street about the violin (it was a segment of Elmo's World, and super cute!). She seemed so excited when she saw it on the show, I pulled out my instrument to play for her. The good news was she loved it! The bad news was she loved it so much she tried pulling my instrument out of my hands so she could play it herself. While it warmed my heart to see her excited about the violin, I knew an eager toddler could not be trusted with a valuable wooden instrument, I decided to try again when she was a bit older.
This past June my sweet little girl turned two, and she's at least somewhat calmer and more careful. What's more, she got a ton of drawing materials for her birthday, and she loves to sit and draw with her markers and crayons. I figured that would be a perfect time for me to try playing the violin for her (and me!) again. So I set her up with her markers (I took the advice of a good friend and had her draw in her high chair), and got out my instrument. The results have been wonderful. She loves watching me play--she claps her hands and cheers, she dances to the music, she sings along in her soft baby voice. I love the chance to play music at home and having such a great audience.
I hope that watching her mother play for her will inspire my daughter--that she'll grow up loving music, keep her enthusiasm, enjoy taking lessons herself. But for now I'm focused on the present, where she claps her hands and smiles and sings along with me. It's a beautiful moment, and seeing her excitement inspires me. Thus far I've kept to light repertoire so that I can keep an eye on her while I'm playing, but she seems to love it all. For anyone who's curious, I've mostly played pieces from Suzuki Books 1, 2, and 3, and Medieval Music for the Violin. I might try some Bach solo sonatas or Mozart concertos once I'm sure she won't get up to something while I'm playing (imagine playing a concert where at any moment the audience could start coloring on your pants with markers).
For all the musically-inclined parents out there, do you play your instrument for your child/children?